Zwei hochwertige Einfamilienhäuser/Villen auf großem Grundstück in Blumenau
#Villas #LuxuryRealEstates #ForSale #Blumenau #StateOfSantaCatarina #Brazil
Contact information:
Dr. rer. pol. Andreas Hahn
Economista (FAAP Sao Paulo/UN Duisburg-Essen)
Consultoria e Assessoria em Agronegócios e Imobiliária

Hahn Immobilien- und Anlageberatung Brasilien
(I) Gartenstraße 14, 09376 Oelsnitz, Deutschland/Germany
(II) Viaduto Nove de Julho 164, 01050-060 Sao Paulo, Brazil

Web-Address:

https://real-estate-brazil.com/
https://www.linkedin.com/in/dr-andreas-hahn-international-consulting-brazil-26b80a14/

Tel.: +049(37298) 2445
Whatsapp/Cel: +49 151 68159883/+055(11)96428 3955
Gewerberegister Chemnitz 14511000
USt-IdNr.: DE65838792106
Villa / luxury real estate Blumenau for sale Brazil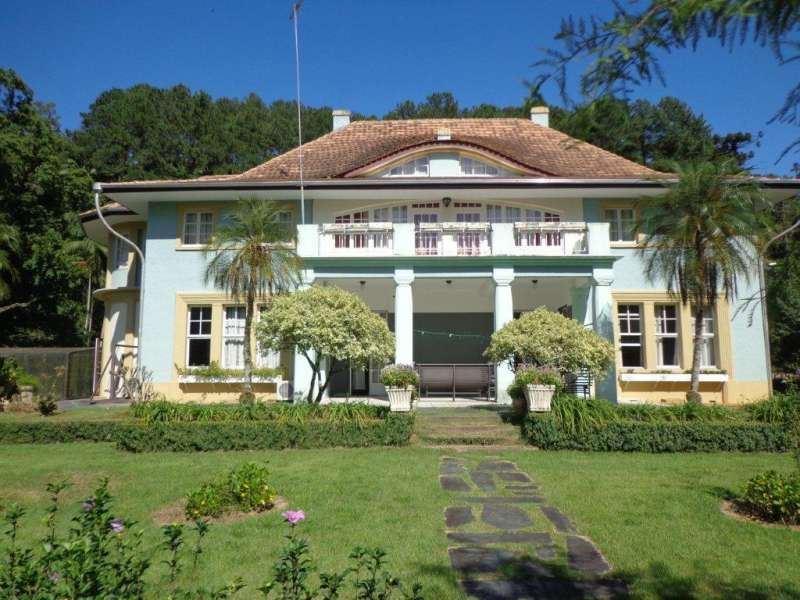 Villa / luxury real estate for sale

US$ 1 346 493,50 ( R$ 6 500 000,00 ) net price
BR-89074 Blumenau, Teste Salto, Rua Johann Karsten 220
State of Santa Catarina, Brazil
Extras
Balcony
Conservatory
Garden
Terrace
Facilities
Air-conditioning
Built-in kitchen
Fireside
Description
(for english description, please see below under "Other")

Zum Verkauf stehen zwei Luxus-Häuser auf 260.000 qm Grundstück.

Immobilienmerkmale:

Nutzungsmöglichkeiten: Residenzen, Kliniken, SPA, Hochschulen, Ruhezentren, Restaurants und andere
verwendet werden. Es befindet sich in der Johann Karsten Straße (Rua Johann Karsten), Nr. 221, Testo Salto.
Das Anwesen besteht aus insgesamt 2 Häusern und einer landwirtschaftlichen Fläche für die Viehzucht:

1) Eine Residenz mit 4 Schlafzimmern, Wohnzimmer und Esszimmer, TV-Raum, Küche, Service-Bereich,
Partyraum mit Grill + Garten und zwei private Parkplätze. Hausfläche + Landfläche: insgesamt 5.515 m²

2) 3-stöckige Residenz/Villa mit 1 Master-Suite + 4 Schlafzimmer, mehrere Wohn- und Esszimmer, Küchen,
Servicebereiche, Nebengebäude, mehrere Bäder, Toiletten, großer Garten und Parkplätze. Privater Bereich des
Hauses: 620 m², Grundstück: 254.456 m²

3) Entwickelte Infrastruktur für die Viehzucht (Lagerung, Stall etc.) Gesamtfläche der Immobilie: 259.971 m²

Dokumentation: Die Immobilie ist mit einer vollständigen Dokumentation (RGI / escritura publica)
ausgestattet. Der Preis stellt eine Verhandlungsbasis dar. Gegen-Angebote werden analysiert. Die
Dokumentation kann auf Anfrage gesendet werden. Zahlungsmodalitäten: verhandelbar. Immobilien in
Balneário Cambori und Blumenau könnten als Teil der Zahlung akzeptiert werden (bis zu 50% des Wertes der
Immobilie)
Other
Private Home Blumenau - two Luxury houses on 260.000 sqm lot (descritivo português mediante solicitação)

Property Features:

The property can be used for Residences, Clinics, SPA, colleges, rest centers, restaurants and others. It is
located at Johann Karsten Street (Rua Johann Karsten), nº 221, Testo Salto.

The property consists in total of 2 residences and an agricultural area for cattle breeding:

1) A residence with 4 bedrooms, living room and dining room, TV room, kitchen, service area, party room with
barbecue + garden and two private parking spaces. House area + land area: in total 5,515 m²

2) A 3 level residence with 1 master suite + 4 bedrooms, several living and dining rooms, kitchens, service
areas, outbuildings, several bathrooms, toilets, huge garden and parking spaces. Private area of ​​the house:
620 m² Land: 254.456 m²

3) Developed infrastructure for cattle breeding (storage, stable etc.)

Total area of ​​the property: 259.971 m²

Documentation:

The property comes with complete documentation (RGI/escritura publica).

The price represents a basis of negotiation. Counter offers will be analyzed.

Documentation can be sent on request.

Payment Modalities: to be negotiated. Properties in Balneário Camboriú and Blumenau could be accepted as
part of the payment (up to a maximum of 50 % of the property´s value)
Disclaimer
All data are approx. Data.