Luxury Oceanfront Villa with 4 Suites in Jacuma
#Villas #LuxuryRealEstates #ForSale #Muriú #StateOfRioGrandeDoNorte #CearáMirim #Brazil
Contact information:
Dr. rer. pol. Andreas Hahn
Economista (FAAP Sao Paulo/UN Duisburg-Essen)
Consultoria e Assessoria em Agronegócios e Imobiliária

Hahn Immobilien- und Anlageberatung Brasilien
(I) Gartenstraße 14, 09376 Oelsnitz, Deutschland/Germany
(II) Viaduto Nove de Julho 164, 01050-060 Sao Paulo, Brazil

Web-Address:

https://real-estate-brazil.com/
https://www.linkedin.com/in/dr-andreas-hahn-international-consulting-brazil-26b80a14/

Tel.: +049(37298) 2445
Whatsapp/Cel: +49 151 68159883/+055(11)96428 3955
Gewerberegister Chemnitz 14511000
USt-IdNr.: DE65838792106
Villa / luxury real estate Muriú for sale Brazil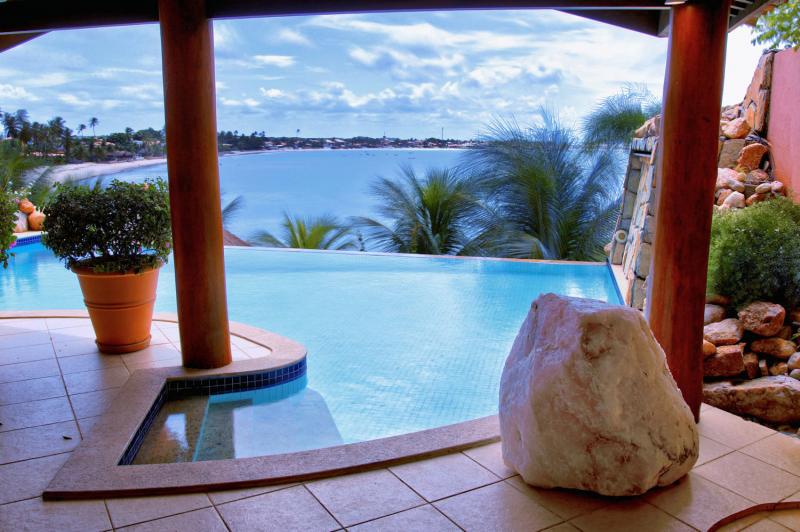 Villa / luxury real estate for sale

US$ 1 405 820 ( € 1 300 000,00 ) net price
BR-59570-000 Muriú
State of Rio Grande do Norte, Brazil
Extras
Balcony
Garden
Terrace
Facilities
Air-conditioning
Beach access
Built-in kitchen
Swimming pool
Description
General Description (descritivo português mediante solicitação) – Luxury Oceanfront Villa with 4 suites

Designed by well-known European architect Claes Feder in rustic, colourful Brazilian style with an elegant
European touch and craftsmanship, using first class materials throughout the villa inside and out.

Beautifully decorated using bamboo and Brazilian hard woods, attractive stones, paintings and art pieces from
various Brazilian artists, paying attention to every detail.

A jewel! This charming oceanfront villa is located at Praia do Porto Mirim, Jacuma, north of Natal, Rio Grande
de Norte, 26 km from new international airport Sao Gonçalo de Amarante.

This fabulous holiday villa is situated right on the white sandy beach, surrounded by whispering palms and the
turquoise ocean, with its own infinity pool and spa.

It is a magical place to unwind and personifies oceanfront luxury living.

Documentation

All documentation in order, with escritura publica and Matricula.

Further Considerations

The price represents a basis of negotiation. Counter offers will be analyzed.

Documentation can be sent on request.
Disclaimer
All data are approx. Data.