Fantastic Beach Property in Jacumy Bay, 30 km north of Natal
#Villas #LuxuryRealEstates #ForSale #Muriú #StateOfRioGrandeDoNorte #CearáMirim #Brazil
Contact information:
Dr. rer. pol. Andreas Hahn
Economista (FAAP Sao Paulo/UN Duisburg-Essen)
Consultoria e Assessoria em Agronegócios e Imobiliária

Hahn Immobilien- und Anlageberatung Brasilien
(I) Gartenstraße 14, 09376 Oelsnitz, Deutschland/Germany
(II) Viaduto Nove de Julho 164, 01050-060 Sao Paulo, Brazil

Web-Address:

https://real-estate-brazil.com/
https://www.linkedin.com/in/dr-andreas-hahn-international-consulting-brazil-26b80a14/

Tel.: +049(37298) 2445
Whatsapp/Cel: +49 151 68159883/+055(11)96428 3955
Gewerberegister Chemnitz 14511000
USt-IdNr.: DE65838792106
Villa / luxury real estate Muriú for sale Brazil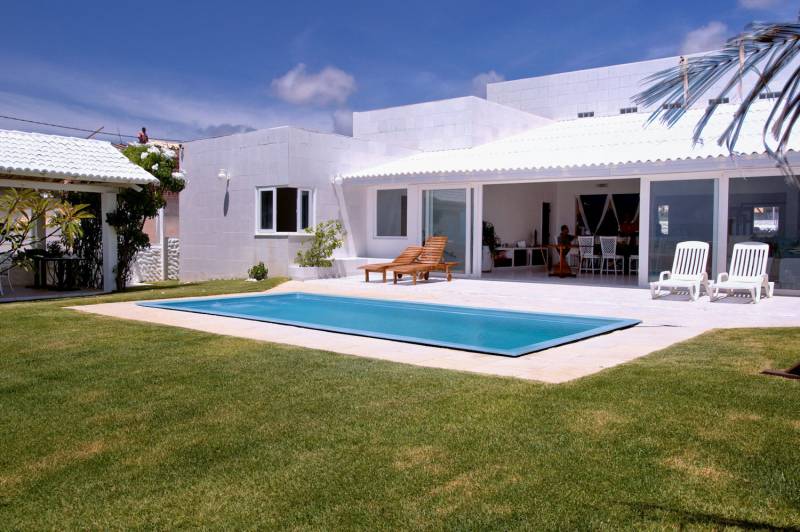 Villa / luxury real estate for sale

US$ 290 013,98 ( R$ 1 400 000,00 ) net price
BR-59570-000 Muriú
State of Rio Grande do Norte, Brazil
Extras
Balcony
Garden
Terrace
Facilities
Air-conditioning
Beach access
Built-in kitchen
Swimming pool
Description
General Description (descritivo português mediante solicitação) - Fantastic Beach Property

Splendid modern villa with swimming pool, 389 sqm build on a plot of 1000 m2 sitting on the beach and
directly over the ocean in the beautiful bay of Jacuma.

One floor with 4 double bedrooms all with bathrooms,living room,kitchen,guest bathroom,laundry
room,pantry,bathroom for staff. Equipped with a panoramic terrace on the roof of the main body of the building
with solarium and Jacuzzi with a diameter of 3 meters for up to 5 people.

Spectacular beachfront location, situated 30 km north of Natal (RN) in a lovely little tourist resort on the beach
with unforgettable views of the sunset over the sand dunes behind the house.

Some additional information which may be of interest: Sewage disposal plant with a three-stage septic tank.
Fully automated irrigation system for the garden that delivers 10,000 liters of water a day on the grass caught
by an artesian well dug in the property. The hot water required for the house is obtained by solar panels and
related storage water heater of 600 liters also equipped with electrical resistance.

Possibilites for expansion; Aquire land behind the property to double size(to 1800m2)

Build 4 additional bedrooms on the second floor.

Documentation

All documentation in order, with escritura publica and Matricula.

Further Considerations

The price represents a basis of negotiation. Counter offers will be analyzed.

Documentation can be sent on request.
Disclaimer
All data are approx. Data.