Strandgrundstück mit 445.000 m² und 550 m Strandlinie in Ilhéus, Bahia
#CommercialBuilding #ForSale #Eucum #StateOfBahia #Faxinal #Brazil
Contact information:
Immobilien- und Sachverständigenbüro Hahn/Hahn Imoveis Brasil-Alemanha

Dr. rer. pol. Andreas Hahn
Economista (FAAP Sao Paulo/UN Duisburg-Essen) e Gestor Imobiliário

Viaduto Nove de Julho 165
01050-060 São Paulo
++55 11 3151 2590 (São Paulo)
++55 11 99241 5825 (São Paulo)

Erdmannsdorfer Strasse 24
Tel.: ++49 37298 2445
Fax: ++49 37298 2467
http://www.ic-hahn.com
CRECI: 78192-SP
Commercial building site Eucum for sale Brazil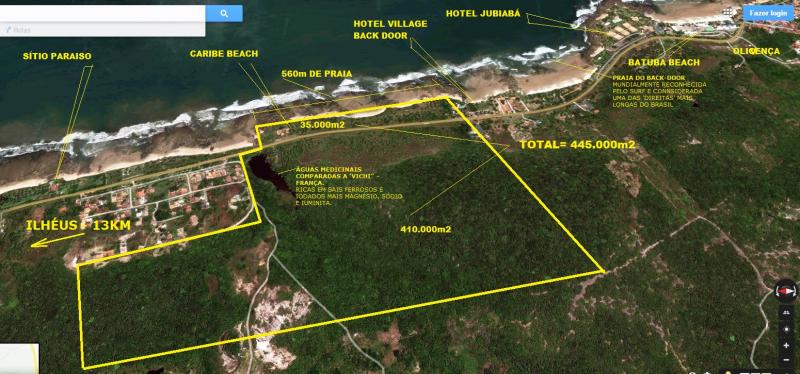 Commercial building site for sale

US$ 1 450 069,92 ( R$ 7 000 000,00 )
BR-46600-000 Eucum, Praia do Sul, Rodovia BA 001 KM 13
State of Bahia, Brazil
Extras Commercial
All-day access
Developed
Freight depot
Lorry access
Pier
Port
Public driveway
Rail connection
Description
(for english description, please see below under "Other")

Die Gesamtfläche des Strandgrundstückes beträgt 445.344 m², mit 550 m Strandlinie. Das
Grundstück befindet sich in Praia do Sul, zugehörig zu Ilhéus, an der Rodovia BA 001 (Km 13), ca.
15 Minuten vom Flughafen entfernt, nahe dem Hotel Village Back Door. Koordinaten: 14°93?14.66?
S e 39°01?60,20? O.

Auf dem Grundstück befindet sich ein kleiner künstlicher See mit ca. 15.000 m². Das Grundstück
wurde in 2 Teile geteilt (die Teile können separat erworben werden) und es befinden sich einige
Gebäude auf dem Grundstück, die aktuell als Restaurant, Festräumlichkeiten etc. genutzt werden.

Auf dem Grundstück können Condomínios, Gebäude (Hotels), Resorts etc. errichtet werden. 20 %
der Fläche unterliegen der Reserva Legal.

Kaufpreis: 7.000.000 R$, Angebote werden analysiert.

Sobre Nos:

A Hahn Consultoria Imobiliária, fundada em 1991 na Alemanha (Berlim e Chemnitz), é composta
por profissionais habilitados e conhecedores do mercado imobiliário brasileiro. Tendo experiência
abrangente para que seus clientes possam sempre realizar um ótimo negócio:

- Elaboração de contratos imobiliários em geral por corretores com CRECI;
- Regularização de documentação;
- Acompanhamento do processo de venda
- Avaliações

Temos representações na Alemanha (Dr. Andreas Hahn), Brasilia (Prof. univ. Dr. Cézar Climaco),
Salvador (João Mauricio Massapê, CRECI J-01411), Rio de Janeiro (Detlev Müller, CRECI-RJ-44403 /
14289) e Florianopolis (Gisele Amarilis, CRECI 3583J).
Other
The total area of the property amounts to 445 344 m², with 550 meters beach line. The property is
located 15 minutes from the airport, close to the Hotel Village Back Door in Praia do Sul, Ilhéus, at
Rodovia BA 001 ( Km 13 ). Coordinates: 14 ° 93 14.66 ? S e 39 ° 01 ? 60.20 ? O.

On the property there is a small artificial lake with approximately 15,000 m² . The land was divided
into 2 parts ( the parts can be purchased separately ) and there are several buildings on the
property , which are currently used as a restaurant, banquet facilities etc.

On the plot can be built condomínios, hotels, resorts, etc. 20 % of the area subject to the Reserva
Legal.

Sale price: 10.000.000 R $ ( 22 R $ / m² ) , offers will be analyzed .
Disclaimer
All data are approx. Data.