Hochwertiges Strandhaus bei Fortaleza (Praia da Lagoinha)
#Villas #LuxuryRealEstates #ForSale #SãoSebastião #SãoPaulo #Faxinal #Brazil
Contact information:
Immobilien- und Sachverständigenbüro Hahn/Hahn Imoveis Brasil-Alemanha

Dr. rer. pol. Andreas Hahn
Economista (FAAP Sao Paulo/UN Duisburg-Essen) e Gestor Imobiliário

Viaduto Nove de Julho 165
01050-060 São Paulo
++55 11 3151 2590 (São Paulo)
++55 11 99241 5825 (São Paulo)

Erdmannsdorfer Strasse 24
Tel.: ++49 37298 2445
Fax: ++49 37298 2467
http://www.hahn-immo.com
CRECI: 78192-SP
Villa / luxury real estate São Sebastião for sale Brazil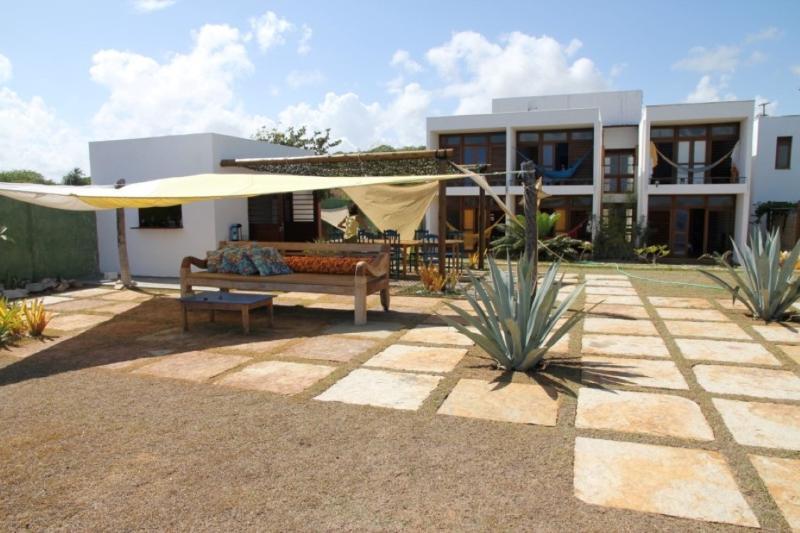 Villa / luxury real estate for sale

US$ 111 862,54 ( R$ 540 000,00 )
BR-62685-000 São Sebastião, Praia de Camburí
Ceará, Brazil
Extras
Balcony
Garden
Terrace
Facilities
Air-conditioning
Built-in kitchen
Description
(for english description, please see below under "Other/Sonstiges")

Objektbeschreibung:

Die Villa ist auf der von Postkarten bekannten Sanddüne ca. 80 m vom Meer entfernt gelegen und
ca. 30 m erhöht. Das Grundstück verfügt über 2'500 m2. Die Lage bietet einen rumdum
Panoramablick aufs Meer und ist unverbaubar. Die Gesamtwohnfläche ist total 310 m2, verteilt auf
zwei Etagen. Im Parterre gibt es je drei Zimmer mit Terrasse und direktem Zugang zum Garten. Im
oberen Stock befinden sich drei weitere Zimmer mit je einem Balkon mit Meeresblick. Alle Zimmer
haben ein Bad mit begehbarer Dusche und Toilette.

Ausstattung:

Die Zimmer und der Eingangsbereich sind mit traditionellen Mosaikböden ausgestattet. Im Parterre
gibt es eine Waschküche mit Waschmaschine. Dazu gibt es einen separaten Storageraum.
Im Garten befindet sich eine freistehende Küche mit Gasherd, Kühlschrank und Freezer. Die
bedeckte Pergola bietet Aufenthaltsmöglichkeiten im Schatten an. Der grosse Parkplatz befindet
sich im Grundstück - daneben besteht noch ein Gärtnerhäuschen.
Auf dem Flachdach gibt es eine thermische Solaranlage zur Warmwasseraufbereitung. Die
Wasserversorgung wir über einen eigenen Tiefbrunnen gespiesen.


Lageparameter:

Die Villa befindet sich am Dorfrand von Praia da Lagoinha. 5 Min. zu Fuss erreicht man das
Dorfzentrum mit diversen Einkaufsmöglichkeiten und Busstation. Die Metropole Fortaleza ist in einer
Fahrstunde zu erreichen. Praia da Lagoinha ist ein beliebtes Ausflugsziel.

----

Hahn Imoveis Brasil-Alemanha - in Deutschland und Brasilien ansässige Immobilienberatung und -
vermittlung sowie Gemeinschaftskanzlei im Bereich Immobilienbewertung Brasilien. Dienstleistungs-
und Servicekatalog auf Anfrage. Haupt- bzw. Geschäftssprache: Portugiesisch, weiterhin Deutsch,
Englisch und Spanisch.

Partner:

Dr. rer. pol. Andreas Hahn (São Paulo)
Ökonom und Immobilienberater (FAAP Sao Paulo/Universität Duisburg-Essen)

Prof. Dr. rer. oec. Climaco Cezar da Souza, phD (Brasilia)
Ökonom und Agronom Universität Brasilia, Gutachter Agrovision Institut

Joao Mauricio Massapé (Salvador da Bahia)
Biologe, Agronom und Immobilienberater (ULBRA Palmas/UEFS Bahia)

Detlev Müller (Rio de Janeiro)
Immobilienmakler und –berater
Other
Modern and upscale mansion , built in 2008, in excellent location in Praia da Lagoinha.
The mansion has 310 m² of constructed area (distributed on two floors) built on a plot of 2500 m² .
There are in total 6 rooms (suites) , 3 of them with balconies overlooking the sea. All suites have
bathrooms. From the whole house you can enjoy a panoramic view of the sea.
On the ground floor there is a laundry area as well as a service area for the maid. The garden has
an additional kitchen (oven , freezer , refrigerator ) . There is also solar heating installed, water is
being provided through an artesian well.

The mansion is located 5 min from the center of the Praia da Lagoinha, the distance from Fortaleza
is around 100 km.
Condition
Zustand: NEUWERTIG