Einfamilienhaus mit Meerblick auf der Ilha Grande
#Houses #ForSale #AngraDosReis #RioDeJaneiro #Brazil
Contact information:
Immobilien- und Sachverständigenbüro Hahn/Hahn Imoveis Brasil-Alemanha

Dr. rer. pol. Andreas Hahn
Economista (FAAP Sao Paulo/UN Duisburg-Essen) e Gestor Imobiliário

Viaduto Nove de Julho 165
01050-060 São Paulo
++55 11 3151 2590 (São Paulo)
++55 11 99241 5825 (São Paulo)

Erdmannsdorfer Strasse 24
Tel.: ++49 37298 2445
Fax: ++49 37298 2467
http://www.hahn-immo.com
CRECI: 78192-SP
House Angra dos Reis for sale Brazil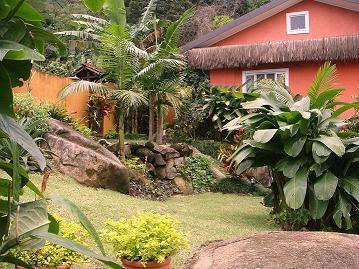 House for sale

US$ 194 652 ( € 180 000,00 )
BR-23900-000 Angra dos Reis, Ilha Grande, Vila do Abraão
Ilha Grande, Brazil
Extras
Balcony
Facilities
Built-in kitchen
Description
(for english description, please see below under "Other")

Das geräumige Einfamilienhaus ist auf der Ilha Grande gelegen, mit Panorma-Blick und idyllischer
Umgebung. Die Gesamt-Wohnfläche beträgt ca. 150 m², die Größe des Grundstücks ca. 520 m². Das
Grundstück ist hierbei in 2 Teilgrundstücke unterteilt (mit jeweils 264 m² und 256 m²). Das
Einfamilienhaus wurde 2006 errichtet.

Aufbau des Hauses:

- 2 Suiten mit Balkon und Badezimmer
- 1 großes Wohnzimmer mit Panorama-Blick auf die Baía da Ilha Grande
- 1 Einbauküche
- 1 Ess- bzw. Dinnerzimmer
- 1 externes kleineres Wohnzimmer mit Blick zum Meer und zu den Bergen

Das Haus befindet sich in direkter Nachbarschaft mit dem Dorf Vila do Abraão - erreichbar in 10
Minuten mit dem Boot.
Position
Region: Ilha Grande, Vila do Abraão
Other
Casa Vistamar is tropically landscaped with a charming decoration where you may enjoy all the
comforts of a home, as it offers a panoramic view of the sea and mountains.

The total living space is 150 m², the size of the lot is 520 m² (consisting of two sub-lots with 264 m²
and 256 m² each). The house was built in 2006.

The master bedroom has a queen size bed, ceiling fan, and includes a veranda overlooking the
beautiful island waters and mountains.
The second suite has two bdes, a ceiling fan and a view of the forest.

Elegant in its relaxed and spacious simplicity, this cozy family vacation home offers an open floor
plan with kitchen, dining, and living room areas.

The open floor area/living room offers a full-size futon, ceiling fan, SKY TV and equipped kitchen.

Casa Vistamar offers two large verandas where you can enjoy a panoramic view in our dining room,
living room and comfortable hammocks facing the ocean and the local mountains.

Close to town yet, still secluded and private, Casa Vistamar is located on the right side of the village
close to cozy beaches known as Praia da Julia and Praia da Bica and two minutes from the main
beach.

It is located around 10 minutes from the pier including a three minute walk uphill.
Condition
Zustand: NEUWERTIG