Gewerbegrundstück mit 10 Hektar und Baugenehmigung bei Rio de Janeiro
#CommercialBuilding #ForSale #JardimAmerica #RioDeJaneiro #Itaguaí #Brazil
Contact information:
Immobilien- und Sachverständigenbüro Hahn/Hahn Imoveis Brasil-Alemanha

Dr. rer. pol. Andreas Hahn
Economista (FAAP Sao Paulo/UN Duisburg-Essen) e Gestor Imobiliário

Viaduto Nove de Julho 165
01050-060 São Paulo
++55 11 3151 2590 (São Paulo)
++55 11 99241 5825 (São Paulo)

Erdmannsdorfer Strasse 24
Tel.: ++49 37298 2445
Fax: ++49 37298 2467
http://www.hahn-immo.com
CRECI: 78192-SP
Commercial building site Jardim America for sale Brazil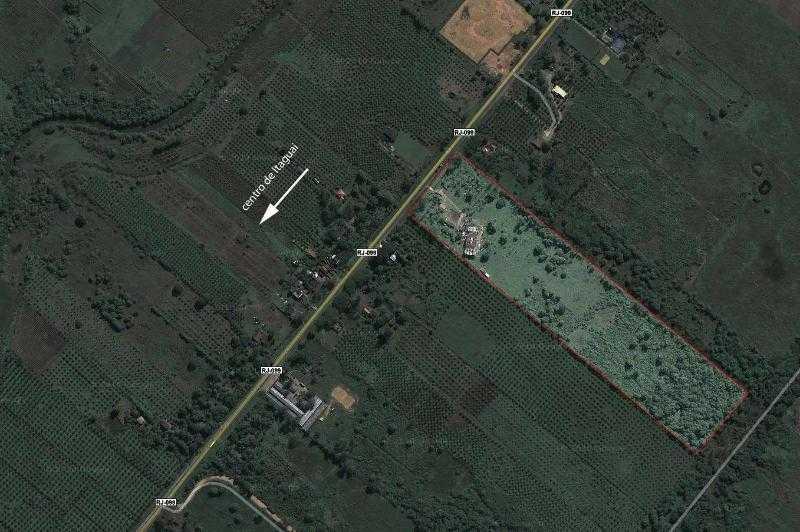 Commercial building site for sale

US$ 11 895 400 ( € 11 000 000,00 )
BR-23810-090 Jardim America
Rio de Janeiro, Brazil
Extras Commercial
All-day access
Developed
Freight depot
Lorry access
Pier
Port
Public driveway
Rail connection
Description
Deutsche Kurzbeschreibung: (for english description, please see below under "Other")

Das 10 Hektar große Grundstück ist zu 65 % (65.000 m²) bebaubar - es besteht eine
Baugenehmigung für ein Projekt für insgesamt 10 Wohneinheiten und 2 Gewerbeeinheiten. Jede
Wohneinheit wird über 5 Stockwerke sowie insgesamt 8 Wohnungen verfügen - mit Größen zwischen
100 und 250 m². Die verbleibenden 35 % der Gesamtfläche (35.000 m²) können als Freizeitareal
oder Parkanlage gestaltet werden. Der Gesamtwert des Projektes nach Realisierung wird auf ca. 288
Mio. R$ geschätzt.

Die Region um Itaguaí gilt als eine der am schnellsten wachsenden Regionen ganz Brasiliens,
gemessen bspw. an den in der Region getätigten Netto-Investitionen. Die Infrastruktur ist
hervorragend und es wurden in den letzten 4 Jahren regionale Wachstumsraten von 128 %
registriert. Zahlreiche Firmen sind in der Region angesiedelt (u.a. auch Thyssen-Krupp) und Itaguaí
verfügt über den größten Industriehafen Lateinamerikas.


----

Contatos - Brasil/São Paulo:

Hahn Imoveis Brasil-Alemanha (sede)
Dra. Elaine Claudia de Almeida
Viaduto Nove de Julho 165
01050-060 Sao Paulo
Tel.: (11) 3151-2590
Cel.: (11) 99241 5825
E-Mail: info@hahn-immo.com
www.hahn-immo.com

Contatos - Brasil/Salvador da Bahia:

Hahn Imoveis Brasil-Alemanha
Consultor Joao Mauricio Massape
Av. Paulo VI, 1373 sala 205 - Pituba
41810-001 - Salvador, Bahia
Tel.: (71) 3011-0995, (71) 9195-6620
E-Mail: info@hahn-immo.com
www.hahn-immo.com
www.massapeimoveis.com.br

Contato Alemanha:

Hahn Immobilien und Gutachten
Gartenstraße 14
09376 Oelsnitz
Tel.: ++49 / 371 / 2397867
Fax: ++49 / 37298 / 2467
E-Mail: info@hahn-immo.com
www.hahn-immo.com

Hahn Imoveis Brasil-Alemanha - in Deutschland und Brasilien ansässige Immobilienberatung und -
vermittlung sowie Gemeinschaftskanzlei im Bereich Immobilienbewertung Brasilien. Dienstleistungs-
und Servicekatalog auf Anfrage. Haupt- bzw. Geschäftssprache: Portugiesisch, weiterhin Deutsch,
Englisch und Spanisch.

Partner:

Dr. rer. pol. Andreas Hahn (São Paulo)
Ökonom und Immobilienberater (FAAP Sao Paulo/Universität Duisburg-Essen)

Prof. Dr. rer. oec. Climaco Cezar da Souza, phD (Brasilia)
Ökonom und Agronom Universität Brasilia, Gutachter Agrovision Institut

Joao Mauricio Massapé (Salvador da Bahia)
Biologe, Agronom und Immobilienberater (ULBRA Palmas/UEFS Bahia)

Detlev Müller (Rio de Janeiro)
Immobilienmakler und –berater
Other
The 10-hectar plot is constructable up to 65% (65,000 m²) - there is a construction permit for a
project for a total of 10 residential units and 2 commercial units. Each residential unit is spread over
5 floors and a total of 8 apartments (each building) with sizes between 100 and 250 sqm. The
remaining 35% of the total area (35,000 m²) can be designed as a recreational area or park. The
total value of the project after realization is estimated at about 288 million R$.

The region around Itaguaí is regarded as one of the fastest growing regions in all of Brazil - for
example in relation to the net investments made in the region. The infrastructure is excellent and
regional growth rates of 128% in the last 4 years were registered. Many companies are based in the
region (including Thyssen-Krupp) and Itaguaí has the largest industrial port in Latin America.