Ein Stück Europa in Brasilien: Traumhaus mit 450 m² in Campos do Jordão
#Villas #LuxuryRealEstates #ForSale #CamposDoJordão #SãoPaulo #Brazil
Contact information:
Immobilien- und Sachverständigenbüro Hahn/Hahn Imoveis Brasil-Alemanha

Dr. rer. pol. Andreas Hahn
Economista (FAAP Sao Paulo/UN Duisburg-Essen) e Gestor Imobiliário

Viaduto Nove de Julho 165
01050-060 São Paulo
++55 11 3151 2590 (São Paulo)
++55 11 99241 5825 (São Paulo)

Erdmannsdorfer Strasse 24
Tel.: ++49 37298 2445
Fax: ++49 37298 2467
http://www.hahn-immo.com
CRECI: 78192-SP
Villa / luxury real estate Campos do Jordão for sale Brazil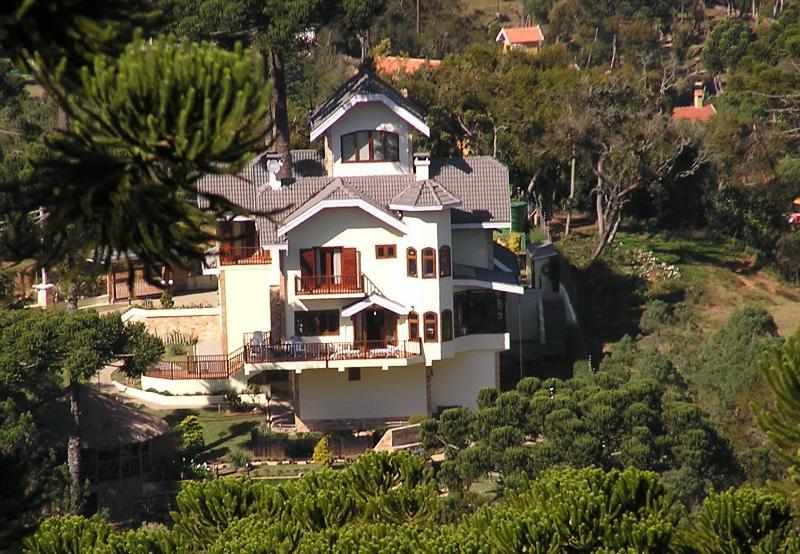 Villa / luxury real estate for sale

US$ 196 795,20 ( R$ 950 000,00 )
BR-12460-000 Campos do Jordão, Vale Encantado
São Paulo, Brazil
Extras
Balcony
Garden
Terrace
Facilities
Air-conditioning
Built-in kitchen
Fireside
Lodger flat
Sauna
Description
(for english short description, please see below under "Other")

Kurzbeschreibung Deutsch:
Größe des Grundstücks: 4125 qm Gesamtfläche (Garten Nr. 1 + 2)
Kulturpflanzen im Garten: 2000 qm ca. (Garten Nr. 1)
Wohnfläche: ca. 450 qm Haus. (Wohnbereich) Fertiggestellt: 2004 mit persönliche Betreuung

Ausstattungsmerkmale:

- Hundehaus mit Elektro-u. Wasseranschluss (für 4 Deutsche Schäferhunde z.B.) Solareanlage im
Garten1, 16 großen Scheiben für Warmwasser, Party-Kiosk, Reed bedeckt mit Lampen,
Holzkohlengrill, 2 Platten- Gaskocher, warm + kaltes Wasser, Bar, Tische u. Bänke für über 20 Gäste
und Abstellraum darunter.

- Garten (1)
Kultiviert: Rasen, Pflanzen, Bäume, Obstbäume, Brunnen beleuchtet, Elektro-Zaun, Wasserbehälter
mit 3000 l Wasser für den Garten m. el. Pumpe

- Garten (2)
..urwaldmässig.Obstbäume, Wasserbehälter mit 5000 Liter mit Filter und el. Pumpe zur Versorgung
frisches Mineralwasser (durch die Schwerkraft aus dem gegenüberlieg. Berg. Keine Kosten der
städtischen Wasserversorgung)

Villa: Doppelglas-Fenster für eine bessere Isolierung, Fußbodenheizungheizung mit Solarenergie,
Gas, Strom möglich.
TV-Antennen: Parabol in Garten 1, SKY auf dem Dach.

Erdgeschoss:

- Wohnzimmer mit Kamin, Esszimmer, Wintergarten, Terrasse, Gäste-WC, Küche mit einer
"Kuschelecke",
- Speisekammer für Lebensmittel, Abstellraum für Reinigungsmittel, Waschküche
Garage (überdacht) für 2 Autos und Stauraum für Werkzeuge usw. Parkplatz (in Garten1) außerhalb
für 10 Pkws Minimum

Untergeschoss:

Zugang von innen: Weinkeller, Tocken-Sauna, Dusche, Jacuzzi
Wohnung für Hausmeisterehepaar: Zugang vom Garten mit
2 Schlafzimmer, Bad, Wohnzimmer mit Küchenzeile.
Zugang von außen
- Hobbyraum mit 2 Außenfenster (nicht abgeschlossen)
- Toilette (zur Benutzung für Kiosk-Partygäste gedacht)
- Werkzeugraum

Erster Stock:

- Schlafzimmer-Appartment mit Gas-Kamin und Terrasse, Garderobe, Bad Jacuzzi
- Einliegerappartment – sep. Badezimmer
- Gast-Appartment (Doppelbett)
- Gästezimmer (Doppelbett) ** mit Balkon
- Gästezimmer (2-3 Betten übereinander) **
- diese 2 ** Zimmer teilen sich ein Badezimmer

Zweiter Stock "der Turm":

- Raum auf dem Dach des Hauses mit 360 Grad-Rundblick
- Geeignet für Entspannung - mit 3 Liegen Ledersesseln und Fußstützen u. Musikanlage

Möbel: das Haus kann komplett möbliert verkauft werden.


----

Contatos - Brasil/São Paulo:

Hahn Imoveis Brasil-Alemanha (sede)
Dra. Elaine Claudia de Almeida
Viaduto Nove de Julho 165
01050-060 Sao Paulo
Tel.: (11) 3151-2590
Cel.: (11) 99241 5825
E-Mail: info@hahn-immo.com
www.hahn-immo.com

Contatos - Brasil/Salvador da Bahia:

Hahn Imoveis Brasil-Alemanha
Consultor Joao Mauricio Massape
Av. Paulo VI, 1373 sala 205 - Pituba
41810-001 - Salvador, Bahia
Tel.: (71) 3011-0995, (71) 9195-6620
E-Mail: info@hahn-immo.com
www.hahn-immo.com
www.massapeimoveis.com.br

Contato Alemanha:

Hahn Immobilien und Gutachten
Gartenstraße 14
09376 Oelsnitz
Tel.: ++49 / 371 / 2397867
Fax: ++49 / 37298 / 2467
E-Mail: info@hahn-immo.com
www.hahn-immo.com

Hahn Imoveis Brasil-Alemanha - in Deutschland und Brasilien ansässige Immobilienberatung und -
vermittlung sowie Gemeinschaftskanzlei im Bereich Immobilienbewertung Brasilien. Dienstleistungs-
und Servicekatalog auf Anfrage. Haupt- bzw. Geschäftssprache: Portugiesisch, weiterhin Deutsch,
Englisch und Spanisch.

Partner:

Dr. rer. pol. Andreas Hahn (São Paulo)
Ökonom und Immobilienberater (FAAP Sao Paulo/Universität Duisburg-Essen)

Prof. Dr. rer. oec. Climaco Cezar da Souza, phD (Brasilia)
Ökonom und Agronom Universität Brasilia, Gutachter Agrovision Institut

Joao Mauricio Massapé (Salvador da Bahia)
Biologe, Agronom und Immobilienberater (ULBRA Palmas/UEFS Bahia)

Detlev Müller (Rio de Janeiro)
Immobilienmakler und –berater
Division
Diese hochwertige Villa in Campos do Jordao liegt in der Mitte einer
paradiesischen Natur.

Schönes Anwesen mit Grundstück von 4.125 qm, in unberührter gelegen Natur mit herrlichen 360
°Rund-Blick . Ein Paradies für Naturliebhaber.
4 Suiten (insgesamt 6 Schlafzimmer), ein Wohnzimmer mit Kamin, Esszimmer, Wintergarten,Turm
Panoramablick, große Terrassen, Gäste-WC, Küche, Waschküche, Garage für 2 Autos, große Innenhof
zum Parken, Kiosk mit Holzkohlengrill und Hausmeisterwohnung.
Other
Beautiful property located in a preserved area, with magnificent 360 degree views across the native
forest of the region.
The mansion, comparable to a small castle, has got in total 3 floors, with 06 bedrooms, 04 suites
(on the first and second floor), living room with fireplace, dining room, tv tower room with panoramic
views, large decks, toilet, kitchen, laundry, caretaker's house, garage for 02 cars, large courtyard for
parking, gazebo with barbecue garage. In the villa there is solar heating (underfloor heating) and
double glass windows for better insulation. The plot, consisting of two beautiful gardens, has a total
area of ​​4,125 m2.
The property was built in 2004 - using only highest quality materials, with all documents ok.