Charmantes Kleines Hotel auf der Ilha Grande
#Hotels #ForSale #R.DaAssembléia #RioDeJaneiro #AngraDosReis #Brazil
Contact information:
Immobilien- und Sachverständigenbüro Hahn/Hahn Imoveis Brasil-Alemanha

Dr. rer. pol. Andreas Hahn
Economista (FAAP Sao Paulo/UN Duisburg-Essen) e Gestor Imobiliário

Viaduto Nove de Julho 165
01050-060 São Paulo
++55 11 3151 2590 (São Paulo)
++55 11 99241 5825 (São Paulo)

Erdmannsdorfer Strasse 24
Tel.: ++49 37298 2445
Fax: ++49 37298 2467
http://www.hahn-immo.com
CRECI: 78192-SP
Hotel R. da Assembléia for sale Brazil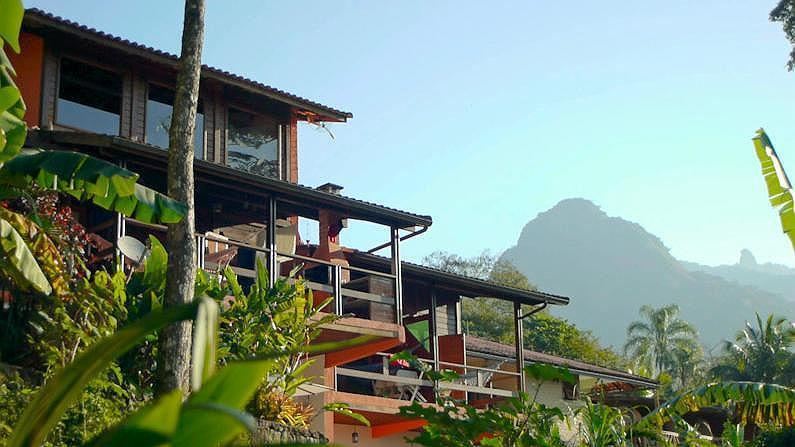 Hotel for sale

US$ 1 221 982 ( € 1 130 000,00 )
BR-23968-000 R. da Assembléia, Vila do Abraão
Rio de Janeiro, Brazil
Facilities
Air-conditioning
Sauna
Swimming pool
Wellness
Extras Commercial
Bar / Dancehall
Guest garden
Health resort
Seasonal operation
Description
(for english description, please see below under "Other")

Kurzbeschreibung Deutsch:
Die charmante Hotel-Pousada Tagomago Beach Lodge wurde 2005 auf der atemberaubend schönen
Ilha Grande errichtet.
Eingebettet in eine traumhafte Regenwald-Szenerie liegt das Hotel am Strand von abraão,
dem einzigen Dorf mit Infrastruktur auf der Insel.

Alle Zimmer verfügen über einen Panoramablick über das Meer und die Bucht, bis hin zu den
Imposanten Bergketten am Kontinent.
Die Ilha Grande ist zu 98% in 3 grosse Naturschutz-Reservate aufgeteilt und hat bis 1994
als Gefängnissinsel ihren natuerlichen Charme voll erhalten.

Das Dörfchen Abraão hat eine gut funktionierende Infrastruktur, so dass es den Gästen
an nichts fehlt.

Die ilha grande hat ca 106 Strände, die zum Teil zu Fuss oder per Boot bequem zu erreichen sind.
Oft werden die ilha grande und ihre natuerliche Schoenheit mit der Karibik verglichen.

Die Tagomago Beach Lodge wurde 2005 aufgebaut und hat 6 Suiten, ein Wohnhaus, 2 Küchen,
einen grossen Frühstücksraum mit Holzdeck und Meerblick, 7 Badezimmer, 2 WC, Depotraum,
2 grosse Holzdecks zum Meer.
Die Grundstücksfläche beträgt ca. 1000 m².
Ca 500 m² sind bebaut und weitere 250 m² können bebaut werden.
Die Lodge arbeitet das ganze Jahr über mit meist internationalen Gästen.
Die Pousada hat sowohl im Jahre 2013 als auch 2014 den Tripadvisor Award gewonnen.


Detaillierte Informationen über jährliche Umsätze auf Anfrage.


----

Contatos - Brasil/São Paulo:

Hahn Imoveis Brasil-Alemanha (sede)
Dra. Elaine Claudia de Almeida
Viaduto Nove de Julho 165
01050-060 Sao Paulo
Tel.: (11) 3151-2590
Cel.: (11) 99241 5825
E-Mail: info@hahn-immo.com
www.hahn-immo.com

Contatos - Brasil/Salvador da Bahia:

Hahn Imoveis Brasil-Alemanha
Consultor Joao Mauricio Massape
Av. Paulo VI, 1373 sala 205 - Pituba
41810-001 - Salvador, Bahia
Tel.: (71) 3011-0995, (71) 9195-6620
E-Mail: info@hahn-immo.com
www.hahn-immo.com
www.massapeimoveis.com.br

Contato Alemanha:

Hahn Immobilien und Gutachten
Gartenstraße 14
09376 Oelsnitz
Tel.: ++49 / 371 / 2397867
Fax: ++49 / 37298 / 2467
E-Mail: info@hahn-immo.com
www.hahn-immo.com

Hahn Imoveis Brasil-Alemanha - in Deutschland und Brasilien ansässige Immobilienberatung und -
vermittlung sowie Gemeinschaftskanzlei im Bereich Immobilienbewertung Brasilien. Dienstleistungs-
und Servicekatalog auf Anfrage. Haupt- bzw. Geschäftssprache: Portugiesisch, weiterhin Deutsch,
Englisch und Spanisch.

Partner:

Dr. rer. pol. Andreas Hahn (São Paulo)
Ökonom und Immobilienberater (FAAP Sao Paulo/Universität Duisburg-Essen)

Prof. Dr. rer. oec. Climaco Cezar da Souza, phD (Brasilia)
Ökonom und Agronom Universität Brasilia, Gutachter Agrovision Institut

Joao Mauricio Massapé (Salvador da Bahia)
Biologe, Agronom und Immobilienberater (ULBRA Palmas/UEFS Bahia)

Detlev Müller (Rio de Janeiro)
Immobilienmakler und –berater
Other
The charming Hotel - Pousada Tagomago Beach Lodge was built on the stunning Ilha Grande in
2005.
Nestled in a magnificent rainforest scenery , the hotel is situated on the beach of Abraão, the only
village with infrastructure on the island.

All rooms have a panoramic view over the sea and the bay, up to the imposing mountain ranges on
the continent.
The Ilha Grande is divided (98 %) into 3 large conservation reserves and has its natural charm fully
preserved as a form prison island (until 1994).

The village Abraão has a well-functioning infrastructure.

The Ilha Grande has about 106 single beaches that can be comfortably reached by foot and by
boat. Often the ilha grande and its natural beauty are compared to the Caribbean .

The Tagomago Beach Lodge was built in 2005 and has 6 suites, a residential house , 2 kitchens,
a large breakfast room with wooden deck and sea view, 7 bathrooms, 2 toilets , custodial space ,
2 large wood decks directed to the sea.
The land area is about 1000 m² in size.
About 500 m² are covered with buildings and a further 250 m² can be built on.
The lodge operates all year round with mostly international guests.

Detailed information concerning annual revenues on request.